Nursing Home Abuse FAQ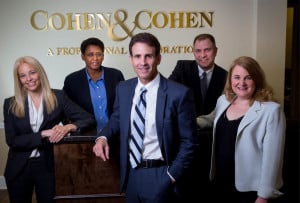 Nursing home abuse and neglect is something that is rarely discussed openly — but as an experienced nursing home lawyer Silver Spring MD has to offer might attest, this type of personal injury occurs all too often. At Cohen & Cohen, we have built up a strong reputation for providing personal injury lawyers to individuals around the state of Maryland. When nursing home abuse or neglect is the cause of this injury, we're proud to give clients a trustworthy nursing home lawyer Silver Spring MD can provide.
If you're looking for a nursing home lawyer Silver Spring MD depends on, you may already suspect that an elderly relative is not receiving adequate care in his/her living facility. Like many other Americans, however, you might not know the extent to which your relative could receive legal protection against this abuse. Many prospective clients seeking legal counsel from a nursing home lawyer in Silver Spring MD are surprised to learn that nursing homes and assisted care facilities have a legal obligation to provide a certain standard of care to residents. When this care is not provided, the residents and their families may be able to collect substantial financial compensation, similar to any other type of personal injury lawsuit.
Although you might wish to speak about the specifics of your case with a nursing home lawyer Silver Spring MD trusts, here is a quick look at some frequently asked questions about abuse in nursing homes.
What counts as nursing home abuse?
Domestic abuse, such as verbal or sexual abuse, occurs at a shocking rate in nursing home facilities. Negligence is another form of abuse that could potentially justify a civil lawsuit, primarily because nursing homes are tasked with providing a certain standard of care to residents. When this standard of care is not met, even when the lack of care is unintentional, the nursing home could be held liable in a court of law.
What if the resident accidentally injures himself/herself?
As an experienced nursing home lawyer Silver Spring MD has to offer might explain, it is important to remember that every case is different and smaller factors might affect how much liability is placed on the nursing home. In general, nursing homes are required to remove all risks of foreseeable injury, to a reasonable extent.
One common injury among elderly people, for example, is bumping into the edge of a table or cabinet. While a nursing home cannot reasonably remove all tables and cabinets from the facility, it could be reasonable to expect a nursing home to remove furniture with sharp corners (or place rubber bumpers over these edges).
What about when several residents are injured in the same way?
Nursing homes are generally expected to remove credible risks of injury. When one resident bumps into a table and receives a large laceration, it might not be feasible to claim that the nursing home was negligent — especially if they take measures to reduce the risk of this injury occurring again. However, families of residents might find out after this injury occurs that several other residents received injuries from the same table, and that the nursing home staff did nothing to fix the problem.
It's essential to know that each case will be different, but this type of situation might justify taking legal action through a lawsuit.
Are prescription drug errors considered negligence?
Yes — and even serious mistakes involving over-the-counter medications or supplements could be considered negligent as well. As a patient takes more medications over time, especially when different doctors are prescribing medications, it can be difficult to keep track of which medications must be taken at certain times, which medications interact with each other, and which medications have specific dosage requirements. To make this even more complicated, some residents may not understand why they need to take certain medications or they might refuse to take their pills altogether.
One of the primary responsibilities of nursing home staff is to make sure that all residents receive their medication. Medication errors are shockingly common in nursing home settings, and some of these errors produce effects that are life-threatening or even fatal.
What happens if a nursing home resident wanders off the premises and is injured?
It may be possible to claim that the nursing home was grossly negligent and that it failed to provide adequate care, precisely because the resident wandered away from the facility. As a nursing home lawyer Silver Spring MD can provide could explain, these claims of negligence are complex.
Not every case where a resident wanders off the premises is considered negligent, even when that resident sustains an injury. Elderly individuals with degenerative cognitive disorders, such as dementia or Alzheimer's, could be more likely to wander away without understanding what they are doing. In these cases, it will likely be essential to prove that the nursing home had prior knowledge of the resident's cognitive condition or that the resident had a history of wandering, which the nursing home staff was aware of.
What if an injury occurs because a nursing home is understaffed?
A great deal of nursing home neglect occurs because the facility is understaffed or because staff members are not trained well enough. Most states have passed legislation that requires nursing homes to employ the proper amount of staff members to provide the highest-quality care possible to residents. Nursing homes are expected to care for residents' physical, mental, and emotional health. A care facility that fails to employ enough staff members for these needs, or fails to train staff members adequately, might be held negligent in court.
Contact a Nursing Home Lawyer Silver Spring MD Depends On
At Cohen & Cohen, our legal team understands that these types of personal injury cases can be incredibly complex. Nursing home abuse and neglect is something that no elderly individual deserves to experience — and no family should have to question if their relative is receiving the appropriate attention from caregivers. If you are wondering about the status of your relative's well being in a nursing home, it may be advisable to speak with a Silver Spring MD nursing home lawyer about your own individual case.
Our legal team is proud to provide such an essential service to the residents of Maryland. If you have additional questions about your own potential nursing home injury lawsuit, we invite you to contact us. For more information about our law firm, or to set up a confidential case evaluation with a nursing home lawyer Silver Spring MD can trust, contact Cohen & Cohen today.