4 Points About Nursing Home Neglect and Medication Errors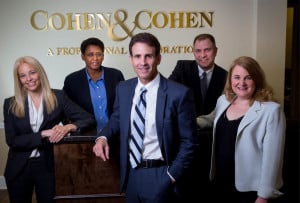 When you need a nursing home lawyer Rockville MD can provide, Cohen & Cohen may be able to help. Our legal team has provided valuable counsel to many local residents who have been injured due to another person's abuse or neglect. Although nursing home abuse and neglect may not be one of the more common types of personal injury cases, this type of direct abuse occurs all too often. At our law firm, we understand that nursing home abuse and neglect can easily lead to serious injuries.
As an experienced nursing home lawyer Rockville MD trusts might know, injuries and illnesses from medication errors are one of the more common ways that residents may encounter neglect. Despite being a pivotal task of any assisted care facility, countless nursing home residents each year are the victims of medication mismanagement. While not every case of incorrect prescribing or administration of medications can count as nursing home abuse or neglect, certain cases may justify filing a civil suit with the help of a  nursing home lawyer Rockville MD has to offer.
Here are a few important points to know about medication errors when it comes to nursing home abuse and neglect:
1. Medication errors, when directly causing an injury or illness, can be considered medical negligence or medical malpractice.
Many Americans are surprised to learn that this type of medical malpractice is not limited to hospital settings. In fact, medication errors occur very often in nursing homes and assisted care facilities. These facilities have a legal obligation to make sure that patients receive the correct medication when they need it, and to make sure that each dose is administered properly.
Larger nursing home facilities or understaffed facilities may have trouble managing the medications of every single resident. Nevertheless, as a trusted nursing home lawyer in Rockville MD might explain, this is one of the most important duties of nursing home staff.
2. Some nursing home facilities have their own on-site pharmacies, but it's still possible for medication errors to occur in these settings.
The big difference in this case, when the wrong prescription or wrong dosage is given to the resident by the pharmacist, is liability. If a nursing home has its own pharmacy in the facility and this pharmacist provided something other than what the doctor prescribed, the nursing home might be held liable. If a resident receives an incorrect prescription from a pharmacy not affiliated with the nursing home, the nursing home is less likely to be held liable for the incorrect prescription (as long as it was administered as instructed).
3. Even with computerized prescription systems, it's still possible for miscommunication to happen and result in prescription drug errors.
As a seasoned nursing home lawyer Rockville MD can depend on, we know that it's quite possible for a doctor to prescribe the wrong medication to a patient. It may also be possible for the pharmacist to fill the prescription incorrectly. For controlled prescription drugs that require handwritten prescription notes, it's possible for a pharmacist to misread a doctor's messy handwriting. Pharmacists might also forgot to place warning stickers on prescription bottles regarding interactions with certain foods or drugs.
Other miscommunication can occur when the medication is being administered, and this may be the fault of the nursing home staff. Staff members might not be familiar with the names of less common prescriptions, and this can easily result in a mix-up when multiple medications are being administered. However, as a Rockville MD nursing home lawyer might explain, injured residents might still be entitled to receive financial compensation when a very simple mistake causes harm.
4. There are many different ways that medication errors can cause injury to a nursing home patient.
Some nursing homes have staff members who focus primarily on tracking and administering residents' medications because the task is so complicated. Nursing home residents might not know which medications they need to take, or they might not be able to vocalize to a staff member that something feels wrong, resulting in medication errors that occur over a longer period of time. While this may seem like just a simple accident, a trusted nursing home lawyer Rockville MD has to offer knows these kinds of scenarios to actually constitute neglect.
It is essential for relatives of nursing home residents to know the different ways that medication errors can occur. The following problems are just a few ways that medication errors might happen in a nursing home setting:
Nursing home staff could administer the wrong medication, the wrong dosage (either too much or too little), or administer the medication at the wrong time of day
A resident could receive another person's medication
Nursing home staff might fail to administer a resident's medication altogether or fail to make sure that a resident has taken his/her medication
A medication may be administered along with another drug that leads to a negative interaction
A medication may be administered that interacts negatively with the resident's diet
A medication may be prescribed or administered that causes an allergic reaction
Contact a Nursing Home Lawyer Rockville MD Depends On
At Cohen & Cohen, it's our job to make sure that our injured clients can get the compensation they rightfully deserve. Injuries stemming from nursing home abuse or neglect can create a traumatic environment for residents. Frustratingly for family members, it's not always easy to prove that this abuse or neglect is occurring.
As an experienced nursing home lawyer Rockville MD can provide might explain, there are many reasons why it can be difficult to prove abuse or neglect, especially when it comes to medication errors. Difficult — but not impossible. At Cohen & Cohen, we believe that it's important for our clients to know what their rights are, and what the rights of their elderly relatives are, when it comes to personal injuries and civil lawsuits.
Every case is unique and it's important for clients to understand that there are many options available for negotiating a settlement or taking the matter to court. If you believe that an elderly relative is being abused or neglected in their nursing home or assisted care facility, you might be entitled to financial compensation. For more information about nursing home abuse, or to schedule a free consultation with a top nursing home lawyer Rockville MD residents trust, contact Cohen & Cohen, P.C. today.