Nursing Home Lawyer Lanham MD
Alternatives to Nursing Homes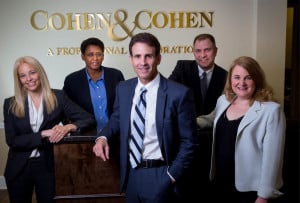 All too often nursing homes are guilty of neglecting or abusing their residents, which can require the help of a nursing home lawyer Lanham MD provides to seek justice for your loved one. The legal firm of Cohen & Cohen is committed to helping victims of abuse and personal injury. A nursing home lawyer Lanham MD recognizes as a community resource for legal assistance can be of great benefit for families with elders facing long-term health care decisions.
Many nursing homes are reputable and safe, with staff who take very good care of the residents. However, your family may be in need of an alternative care situation due to cost, lack of suitable choices, or for a number of other reasons. As a Lanham MD nursing home lawyer, we want you to know that there are many options out there, varying on all different levels of price, accommodation, assistance, etc., when it comes to choosing the right care for your elderly family member. Here is just a brief look at some of the many forms your elder care can take:
Community Services
The number and diversity of community services available varies by area, but there may be enough where your elder family member lives that he or she can continue living at home indefinitely. Costs vary by service and location. A nursing home lawyer Lanham MD trusts for legal assistance may suggest you run a background check on any healthcare provider who will be working in your home. Check online or in your phonebook for the availability of these and other services :
Shopping assistance
Transportation
Meal preparation and delivery
Adult daytime health care with therapy and nursing
Adult daycare
Senior center
Visitor programs
Finances assistance (bill paying, etc.)
Homecare
In addition to what family members can do for the elder loved one, homecare agencies may be able to fill in the gaps. Services that they may offer include:
Home health care to assist with hygiene tasks, mobility, nursing care, or attendant care.
Physical therapy, occupational therapy.
Accessory Dwelling Units
Also known as an "in-law apartment," "second unit," or "accessory apartment" this is often a converted garage, attic, basement, or second floor with a separate entrance, sleeping area, bathroom, and kitchen. This arrangement can work well for the right situation, with family living in the main space to be close and responsive to the elder's needs. If an elder family member has suffered from nursing home abuse, they may want to choose an alternative that allows them to be around family on a daily basis. A nursing home lawyer in Lanham MD may be able to include the cost of needing to add a new apartment or room to the house for the elder family member's needs as part of the abuse settlement.
Subsidized Senior Housing
For elder family members with low to moderate incomes, state and federal subsidies may be able to assist with paying for housing. Housing programs may also offer assistance with meals, shopping, housekeeping, and other basic household chores. Very often the dwellings are apartments rather than a house and the monthly rent is determined by the elder family member's income. A nursing home lawyer Lanham MD has to offer might encourage families when shopping around for health care options to get everything in writing, especially when it comes to fees.
Assisted Living
This is also known as board and care homes, or residential care facilities. Depending on the state, Medicaid might pay for the elder family member's long-term services and support costs. Typically, assisted living communities consist of people living in a group. Additional fees are based on the services used. Services might include any of the following:
Dressing
Bathing
Using the bathroom
Some assisted living communities are provided with nursing services and help with medications
Private or shared room
The option of eating alone or sharing meals with other members
Social and recreational activities
Health services
Continuing Care Retirement Communities (CCRCs)
Very often a CCRC provides more than one kind of housing option and varying levels of care. A CCRC may have apartments, houses, an assisted living facility, and a nursing home for those with advanced needs. Depending on their needs, residents can move from one level of care to another within the CCRC. The resident's contract may require using the CCRC nursing home rather than an outside facility. A nursing home lawyer Lanham MD families turn to for legal assistance might suggest that you review the contract carefully. In addition to a monthly fee, a sizeable entry fee or initial charge may be incurred prior to moving into a CCRC.
Hospice Care
For the terminally ill, hospice care can offer support and comfort. A trained group of caregivers can take care of the individual's social, emotional, and spiritual needs. Hospice benefits can enable the terminally ill to stay at home unless inpatient care is needed. Outside hospice services may be offered by some long term health care facilities and nursing homes. Medicare provides hospice care for qualified individuals. It doesn't cover room and board for general hospice services for nursing home residents or for a hospice's residential facility. It also doesn't generally pay for 24-hour help for those who receive hospice services at home. Medicaid may cover some areas not covered by Medicare such as in-home personal care assistance. Hospice services can include the following:
Physical care
Emotional or psychological counseling
Medications and specialized medical equipment
Health supplies
Respite Care
This is short-term assistance to provide the primary caregiver time off. Some hospice care facilities, residential care facilities, and nursing homes offer respite care. It may also be available in-home. For those with hospice care services coverage, Medicare will pay for inpatient respite care for up to five days. For qualified individuals, Medicaid may pay for some at-home services not covered by Medicare.
Programs of All-inclusive Care for the Elderly (PACE)
Medicare and Medicaid offer the PACE program in many areas of the country. It's an alternative to those would require a nursing home level of care. To qualify, the following conditions must be met:
The individual is 55 or older
Must live within the service area of a PACE organization
The resident state certifies that a nursing home level of care is required for the individual
At the time of joining, the individual is able to live safely and comfortable within the community with the assistance of PACE services
Home- and Community-Based Waiver Programs
Those eligible for Medicaid and in some states specifically eligible for nursing home services may get assistance with some home- and community-based services such as:
Personal care
Home services
Respite care
A Nursing Home Lawyer Lanham MD Respects
When it comes to alternatives to nursing homes, families have a variety of choices for their loved one. A nursing home lawyer Lanham MD residents trust might recommend that families consider every option before making a decision. If you have a loved one who was a victim of nursing home abuse or neglect, contact us at Cohen & Cohen to arrange for a consultation with a nursing home lawyer Lanham MD is proud to have in the community.